Welcome to the My Friend's Little Sister Has It In for Me! Wiki!


Welcome!
My Friend's Little Sister Has It In for Me! (友達の妹が俺にだけウザい, Tomodachi no Imōto ga Ore ni Dake Uzai, lit. My Friend's Little Sister is Annoying Only Towards Me) (abbreviated as Imouza) is a Japanese light novel series written by Ghost Mikawa and illustrated by Tomari. A manga adaptation by Hira Hiraoka began serialization online in December 2019, and an anime television series adaptation has been announced in late January 2021. Find the official website here. This is the Imouza Wiki, a fan-led knowledge base hosted on Fandom (Wikia).
If a girl teases you, that means she likes you! Unfortunately, Akiteru Ōboshi knows from experience that isn't the case. Because every girl he interacts with shows him nothing but scorn, and he's not scored a single date from it! Luckily, he's more concerned with securing a spot for him and his game-development buddies at his uncle's business. But when his uncle throws him a condition that involves playing the part of his daughter's boyfriend, Akiteru has no choice but to take it. What will his best friend's sister Iroha Kohinata, who bullies him relentlessly, think of the news?

Meet the Platoon!
Wiki Spotlight
| Article Spotlight | Media Spotlight |
| --- | --- |
| Midori Kageishi (影石 緑) is Sumire's younger sister and a second-year high school student at Akiteru's school. She is the president of the drama club, despite her inability to act. | Get an exclusive first-hear of the officially announced voice actors for My Friend's Little Sister Has It In for Me!'s upcoming anime adaptation! |

Spotlight Media
Awaiting Anime announcement! When the official service is announced, you will find it here!

Ways to Help!
Not sure where to start?
Find out more about the community by visiting some of the pages on our Wiki. Use the navigation bar on the top of the page, or, go to a random page!
Start watching some Episodes and engage in conversation in our Forums page.
If you are new to Wikia, check out the tutorial.
Adding content
Visit our Community Portal. This is the starting point for all editors of this Wiki. There, you will find information about new pages, find ways to help clean up the site, and expand our growing range of articles. Meet the Administration team here.

Official Sites

Alert
This community is in the process of being built. Please make an account and verify your email before making any edits. If you would like to pass on a message, you can contact the administrator Urere on his Message Wall.

Latest Release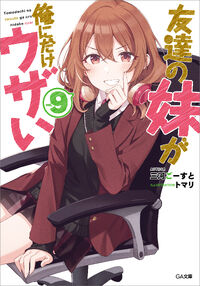 Volume 9
14 January 2022
Those in Japan can get free goodies when buying Volume 8 at certain stores!
Volume 4
7 January 2022
©2019 Ghost Mikawa/SB Creative (GA Bunko), Tomari
©2020 Ghost Mikawa/Manga UP! (Square Enix), Hira Hiraoka