Mashiro Tsukinomori (月ノ森 真白, Tsukinomori Mashiro?) is a second-year high school student. She is Akiteru's classmate and cousin. Mashiro is shy around strangers. However, she has a cold attitude and poisonous tongue only towards Akiteru. She is also secretly a scriptwriter as part of Akiteru's 05th Floor Alliance.
Appearance
Character
Namako Makigai
"
Makigai Namako.

A light novel author whose work won first prize in a UZA Bunko competition three years ago. That work then went on to become a series which sold over three million copies, launching Makigai's career with a spectacular debut.

There was something about the sarcastic wit in his writing, and his strangely specific knowledge about sea creatures. What impressed most people was his engrossing and innovative style, as well as how he developed his main characters. Even though his series was wildly popular, he still refused again and again to have it adapted into a manga or anime series.[2]

"
 
Relationships
awaiting content
awaiting content
awaiting content
awaiting content
awaiting content
Trivia
Gallery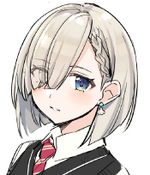 Click to go to the Image Gallery for Mashiro Tsukinomori!

References (footnotes, citations, bibliography)
 

Global Navigation
Key Pages
Characters
Items
Locations
Anime
Light Novel
Manga
Drama CD

My Friend's Little Sister Has It In for Me! (友達の妹が俺にだけウザい, Tomodachi no Imōto ga Ore ni Dake Uzai) (also translated as My Friend's Little Sister is Annoying Only Towards Me) (abbreviated as Imouza) series by Ghost Mikawa. This is the Imouza Wiki on Wikia FANDOM.
Community content is available under
CC-BY-SA
unless otherwise noted.