Iroha Kohinata (小日向 彩羽, Kohinata Iroha?) is a first-year high school student. She is Akiteru's best friend's sister. She is a bright, kind, and beautiful honour student. However, she easily gets excited and doesn't know to how to read the atmosphere, as well as doing things in her own pace. Strangely, she is clingy towards Akiteru.
Appearance
"
Her hair was a bright golden color, and the way it fluffed up, as well as the headphones around her neck, made her look like an emperor penguin. Her short-sleeved uniform and short skirt looked like they kept her cool in the humid heat of early summer. Without her socks, the line of her long, slender, pale legs was unobstructed from view. She was the epitome of a high-school girl, without the piercings or embellishments that would make her stand out as belonging to a particular subculture.[1]
"
 
Character
"
She's super well-dressed, but not in a flashy way, y'know?! Sh-She's smart, polite to everyone, and she's an honor student! She's just so perfect![2]
"
 
Relationships
awaiting content
awaiting content
awaiting content
awaiting content
Trivia
Gallery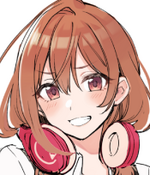 Click to go to the Image Gallery for Iroha Kohinata!

References (footnotes, citations, bibliography)
 

Global Navigation
Key Pages
Characters
Items
Locations
Anime
Light Novel
Manga
Drama CD

My Friend's Little Sister Has It In for Me! (友達の妹が俺にだけウザい, Tomodachi no Imōto ga Ore ni Dake Uzai) (also translated as My Friend's Little Sister is Annoying Only Towards Me) (abbreviated as Imouza) series by Ghost Mikawa. This is the Imouza Wiki on Wikia FANDOM.
Community content is available under
CC-BY-SA
unless otherwise noted.